Accessing Property Listing Data on PropertyNews
Now that you've added PaTMa's Browser Extension Tool, you can minimise any opportunity costs and time losses, keeping all your new prospects in one place to keep track of any changes. If you haven't started, it's not to late! Get started now.
PaTMa's Browser Extension is built-in with multiple features such as the price history of the product, it allows you to enable email alerts signalling any changes, instant calculations on instant ROI and yield, and quick local comparisons.
Getting Started
Once the Browser Extension is installed, start browsing PropertyNews.
While viewing an individual property page, click the PaTMa Logo on the right side of browser.
A table will pop up on the screen outlining the price history, estimated ROI, Yield and Rent along with any comparables as seen below.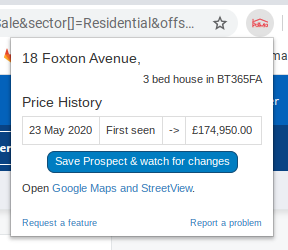 Features
1. Price History
The first feature that you'll notice on this table is the price history. The price records of the properties are often crowdsourced and shared with PaTMa's users, so you'll often find that the history already exists when viewing your first listing. Any access to pricing history is readily available immediately, without even creating an account. Simply [install the browser extension] and start enjoying extra data to help with your property investment decisions.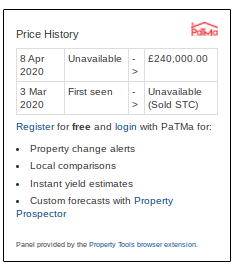 Note: To view more detailed information such as setting up change alerts, local comparisons and instant yield estimates, you may wish to check out the Zoopla / Rightmove / OnTheMarket Guide.
2. Email Alerts & Saving Prospect
Compile a list of interesting properties you want to keep track of by curating a property prospector list and receive email alerts when the asking price changes or the property is taken off the market. This feature is particulalry great for quickly comparing the yield and ROI almost instantly.
Find out how to watch out for property changes here.