Multiple Landlords
Letting Agents
PaTMa has incorporated a landlord list that allow you to keep all the information relating to your landlords on hand. With a clean and simple display, their details will be presented in a column with brief contact details at the front.
With PaTMa, viewing and adding new landlords is made that much easier with the click of a button and its ability to record and manage multiple Landlords covers use by letting agents and self managing landlords.
In the case of an agent storing property details for multiple landlords, the system enables them to add these details on the Landlord List page and mark each property as owned by the appropriate landlord.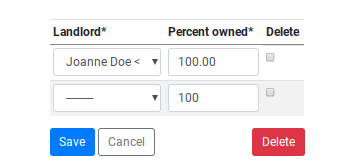 Self-managing Landlords
In the case of a private landlord who owns some (or all) properties jointly with another person (or company), the system makes it possible to add the extra landlord(s) and when editing a property, you can allocate the percentage of the property each Landlord owns as shown below.
To enable allocating a property to multiple landlords, you must first create an additional landlord (beyond the default one) via the Landlord List page.