How To Add A Task
PaTMa is created with a task management tool built into the system. It helps you keep track of any duties or issues that need to be addressed relating to the property, you can start to note down these duties once you're creating your first property.
Getting Started
In the header, navigate to Properties.

You will be directed to a page listing your current properties.
Note: With the free version of PaTMa, you can only manage one property at a time. To add more than one property to your account. Upgrade to a Premium Account.

Click the Property Name you wish to add a task to.
On the property display page, scroll to locate the Tasks column.

Click Create Task

You will immediately be redirected to a page displaying an empty form with the headings, details, status and follow-up date, and the next step is to fill in this form with all the details relating to the task.
Filling The Form
Details
In this field, enter all the important information of the task. (ie. following up on faulty sink).
Status
Using the dropdown menu, select a status that best relates to the task.
Note: You will be given five options: - New - With tenant - With landlord - Work pending - Closed
Follow-Up Date
To enable reminders, you can set the date on which you wish to follow up on the task in this field.
Using the pop-up calendar, select the intended follow-up date.
Note: You can choose the option of following up after the tenancy is over. For this day to correlate with the end of tenancy date, mark the box below this field.

Follow Up Owner
In this field, add the email of which you wish to follow up with when the date approaches.
Tenants
When you have recorded all of the property's tenants, their name will be displayed in this field,
Select the relevant tenant to which this task best relates to.

Once complete, click Save
When you navigate back to the task section of your property display, then you will see your tasks presented in a list format as below.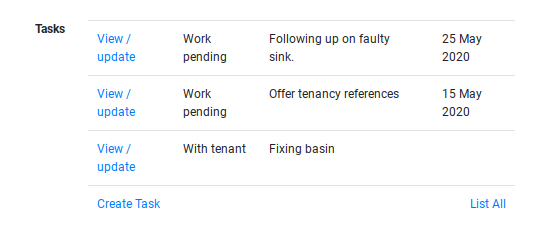 Note: You can extend the list to view all your tasks by clicking List All.
However, with time you may find that you need to record any changes in the task. PaTMa supports an update feature that lets you keep notes on the progress of the task. Learn more about editing tasks here.