Licensing Data Feature
PaTMa's Licensing Tool finds and presents information on local authority licensing requirements automatically. So you can see what HMO, additional, selective or other licences you might need instantly.
In the recent years, the need to apply for a property licence has become an important part of the buy-to-let business and with the requirements varying according to the type, county and sometimes depending on the street, the process can often be tedious and complicated to follow.
However, PaTMa simplifies the complex process by displaying all the licensing requirements that may apply to each prospective property on your list. This means you will always be aware of any licensing costs and implications tied to any prospective property before purchasing it. This means that you can avoid any unnecessarily expensive mistakes and even avoid property with onerous or expensive licensing requirements.
Key features of PaTMa's Prospector Listing Search
Find any licensing schemes that may apply to the property you are interested in. Any additional, selective, HMO or postcode-based schemes are analysed and displayed in a clear format.

Track the current costs of a House Of Multiple Occupants license.

Easy to use. It includes any relevant links that send you directly to the relevant local authority website for mroe indepth and comprehensive information.
How It Works
Once you add a property as a prospect the licensing tool will automatically show you:
what council covers that area, including the relevant ward.

what additional, selective and HMO licensing or Article 4 directions apply based on that exact postcode including comprehensive details of the scheme.

the current costs of any required licences.

provide a contact phone number and link for the relevant local authority for more information or to apply.
Here's an example of the information provided by the licensing information feature.
Note: Each entry on licence can be clicked and expanded to display more in depth data: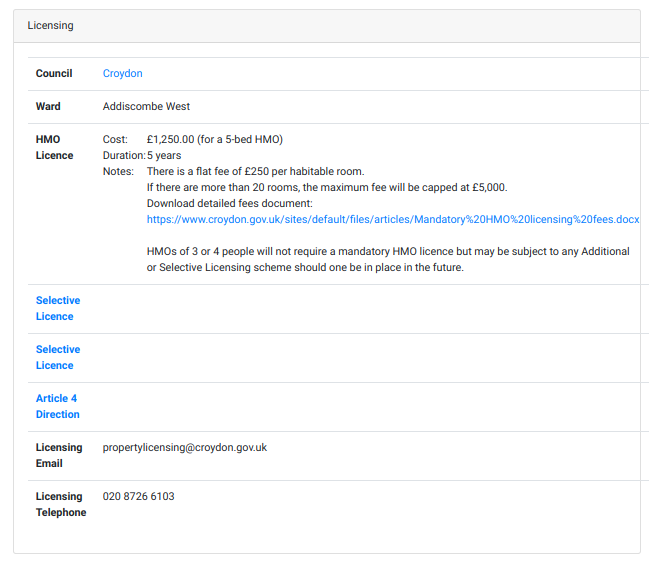 Get Started
In the Header, Navigate to Prospects.

You will be redirected to a page containing all your prospective properties.
Scroll to locate Prospects & Calculations and select the property you wish to analyse.

In the prospect's report, scroll to the Licensing section to view all important data.