Property Prospector
Search faster, compare and investigate easily, react quickly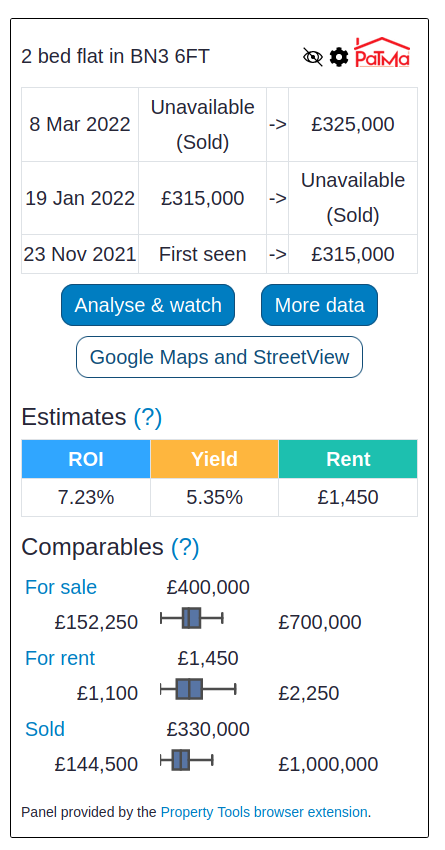 Quick Local Comparisons
The more data you have at your fingertips whilst searching for a potential property investment, the quicker you can react and the better decisions you'll make.
With our FREE Property Browser Extension and Property Prospector gain an instant view of the price range for similar, comparable, properties in the local area for the property listing you're currently viewing.
Price History
Strengthen your negotiating position by having the full pricing history. Know when property prices change or as soon as a property is re-listed after a sale has hallen through.
Learn more about Property Prospector
ROI and Profit
Customised to fit your purchasing scenario. See instant cost, yield, profit and ROI calculations for each prospect. Rapidly compare between prospects to prioritise ROI, monthly profit or your preferred metric.
Downloadable Reports
Create instant per-prospect PDF reports, ready to send to colleagues or customers. Reports contain all property details, financial forecasts and photos. They can be easily customised and optionally white labelled with your own branding and adjustments.
Compare prospects
Quickly store every property you're considering for investment and instantly see financial forecasts for each, complete with easy comparisons and sorting on key metrics.
Price vs Yield/ROI
Identify your perfect offer point by viewing a chart of purchase prices vs yield and ROI. Make the details bespoke to you by entering your specific property parameters.
Affordability Calculations
Enter your estimated mortgage and your cash limits to view affordability checks with clear yellow/red indicators that highlight the restrictions applying to each prospect.
Take notes and share
Record notes against each property, with your impression after viewing or the refurbishment that's needed. Easily share a link to any prospect with friends, colleagues or customers to get their feedback.
Section 24 estimates
Worried about Section 24 and what it's doing to your rental profits? Make sure your next purchase is on a sound footing by checking our estimated tax tables, available on every prospect page.
Local Investigation
Location, location, location - it's a critical part of any property purchase. Property Prospector details local data on transport links, school performance, crime rates, economic activity, planning applications and housing tenure to name just a few.
Property Manager
Take the hassle out of property management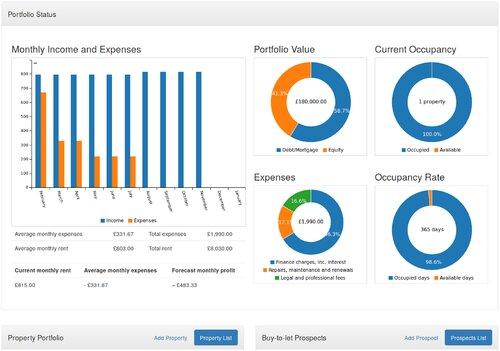 Portfolio insights
Understand how your property portfolio is performing in real time.
Property Manager transforms your property information into easy-to-read statistics and graphs, so you have an accurate understanding of your portfolio performance.
Store documents
Keep all your documents safely organised in one place, accessible wherever you are.
Upload and permanently store tenancies, inventories, photos, safety certificates and more.
Track tenancies
Record tenant names, contact information, start dates, rent changes and all related documents. Always available for easy access.
Record rent
Receive reminders when rent is due, easily record when it's received and see exactly what's due or overdue at any time.
Stay compliant
Always remember safety certificate renewals in plenty of time with automatic email (and optionally SMS) reminders. Upload and store certificate copies for easy access and a full history.
Track maintenance
Keep on top of maintenance issues by creating a ticket to track the progress of all work, complete with tenant updates, from start through to the final bill.
Portfolio financial performance
View the current status, historical graphs and profit reports for each property or your entire portfolio; complete with annual tax return figures.
Instant tax return
Save time and hassle by instantly creating your tax return self assessment figures from the records you've already entered. No more duplication of entry in an accounting system.
Start keeping digital records now to be ready for Making Tax Digital (MTD).
Multiple users
Provide access for your accountant, assistant or other staff (with a Pro subscription).
Expenses and mortgage payments
Record all your repeating and one-time expenses, including mortgage payments and repairs.