Simplify Property Management
Easily track your properties, tenancies, tenants, repairs, rent, mortgage payments, safety certificates and more. From one property to large portfolios.
Find Great Property Deals
Set your criteria (available cash, mortgage rate, LTV, rental cover) and automatically calculate revenue/profit/yield forecasts for each property you're considering.
Take the effort out of property management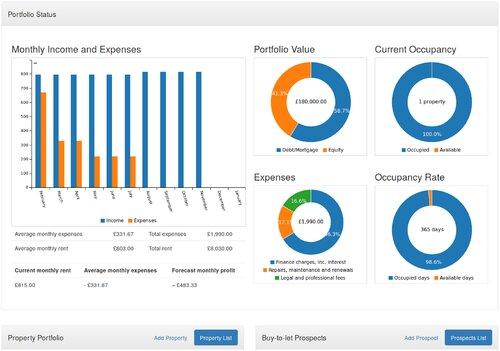 Portfolio insights
Gain insights and stats about your portfolio. PaTMa will also transform the data you enter about your properties into statistics, graphs and great insights into your properties and their performance.
Store documents
Upload and permanently store all documents relating to each property. Tenancies, inventories, photos, safety certificates and more.
Track tenancies
Record tenant names and contact information for easy access, start dates, rent changes and all related documents.
Safety certificates
Always remember safety certificate renewals in plenty of time with automatic email (and optionally SMS) reminders. Upload and store certificate copies for easy access and a full history.
Record rent
Receive reminders when rent is due, easily record when it's received and see exactly what is due or overdue at any time.
Expenses and mortgage payments
Record all your repeating and one-time expenses, including mortgage payments and repairs.
View profit and loss
View current status, historical graphs and profit reports for each property or your entire portfolio; complete with annual tax return figures.
Multiple users
Provide access for your accountant or assistant (with appropriate Landlord packages) or access for all staff (Letting Agent packages).
Track maintenance
Open a ticket for any maintenance issue and track it's progress with tenant updates, as work progresses and through to the final bill.
Tax return
Instantly create your tax return self assessment figures from the records you've already entered, no more extra entry in an accounting system.
Search faster, compare and investigate easily
Quick Local Comparisons
Use the free PaTMa Property Tools browser extension for easy access to PaTMa property investigation tools while you're browsing.
Get an instant idea of the price range for similar properties within half a mile and one mile of the property listing you're currently viewing.
Price History
View the full pricing history for a property listing. The price records are crowd sourced and shared between all users of the browser extension so you'll often find history already exists when first viewing a listing.
Compare prospect3
Quickly store every property you're considering for investment and instantly see financial forecasts for each, complete with easy comparisons and sorting on key metrics.
ROI and Profit
Customised to fit your own purchasing scenario, you can see instant cost, yield, profit and ROI calculations for each prospect. Rapidly compare between prospects to priorities your preferred metric.
Price vs Yield/ROI
View a chart of purchase price vs yield and ROI to help identify your perfect offer point. With all calculations based on own situation and with automatic criteria checks.
Affordability Calculations
Tell the system what mortgage you can get and your cash limits and it will apply affordability checks with clear yellow/red indicators to each of your prospects.
Take notes and share
Record your own notes against each property, with your impression after viewing or the refurbishment that's needed. Easily share any prospect with friends, colleagues or customers to get their feedback.
Section 24 forecasts
Worried about Section 24 and what it's going to do to your rental profits? Make sure your next purchase is on a sound footing by checking our estimated effects tables, available on every prospect page.
Local Investigation
Location, location, location - it's a critical part of any property purchase. PaTMa prospect details include local data on transport links and school performance. Soon flood risk and crime rates will also be shown.
Downloadable Reports
Every prospect is available as a downloadable report that includes all local details, cost calculations, profit forecasts and your own notes. Ready to be sent to colleagues or customers and optionally available white labelled.