How To Customise Browser Extension Calculations
Now you've downloaded PaTMa's Browser Extension Tool, set a free account, you can start to create property prospect lists. With the option of viewing essentials details such the property's price history, estimated yields and comparables as you browse property sites, you can also customise the calculations of the estimations made by the system.
It is essential to understand that the estimated Return On Investment calculated within the Property Tools Browser Extension uses the asking price as the purchase price and uses a median of local comparable rental property rates as the rent. These are the default calculations of PaTMa's Buy-to-Let Profit Calculator.
By clicking the Settings Icon located in the top right corner of the Estimates section, you can make any additional edits to mortgage rates, max ltv etc..

You will be redirected to the PaTMa website, with the headling Settings where you can manually enter any legal fees, mortgage rate and Max LTV.
Filling In The Form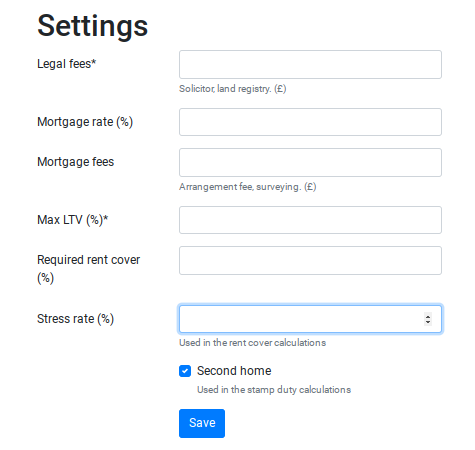 Legal Fees Enter the fees paid to institutions in order to carry the legal aspect of both buying and selling the property. This amount can be the accumulated cost of paying solicitors and land registry.
Mortgage Rate (%) Enter the percentage rate on a mortgage loan that will be applied to the property.
Mortgage Fees In monetary terms, specify the total fees paid on maintaining the mortgage, arrangement fees, surveying etc.
Max LTV (%) In this field, enter the largest allowable ratio of the loan's size to the monetary value of the property ―i.e the maximum loan-to-value ratio expressed as a percentage.
Required Rent Cover (%) Insert the how much of the rent income is required to cover costs at a profit as a percentage over 100%.
Stress rate (%) Insert the provisional state rate associated with the purchase as it will be included in the calculation of the rent cover.
Note: In the case that this building is to be used as a Second Home, mark the box at the bottom of the page to make it blue. This information will be used in the stamp duty calculations.