Property Bee was a well known browser extension used by property investors to show the history of price changes on Rightmove. Unfortunately it hasn't been available for several years now.
Property Bee Replacement
Thankfully the PaTMa Property Tools browser extension is available to replace Property Bee. It provides very similar pricing history for Rightmove listings (and other popular property portals). It's also available for Chrome as well as Firefox browsers.
Being able to quickly and easily see the pricing history for a property listing can be useful to property investors in a number of ways. You might be able to spot that a listing has been marked as sold and later re-entered the market. That could suggest there may have been a problem with the property that was discovered at a later stage in the purchase process. Even without a possible problem to help with negotiations, the vendor is likely to be keen to find another, hopefully more reliable, purchaser sooner rather than later.
Simply being able to see that a property has been through a number of price changes can also be extremely valuable information. It could suggest that the vendor is more open to negotiation than others. A series of fairly rapid price reductions probably means the vendor is keen to achieve a quick sale and hence open to negotiation. A cash, or at least very reliable, purchaser would likely appeal to such a seller.
A typical pricing history shown in the PaTMa Property Tools extension looks like this: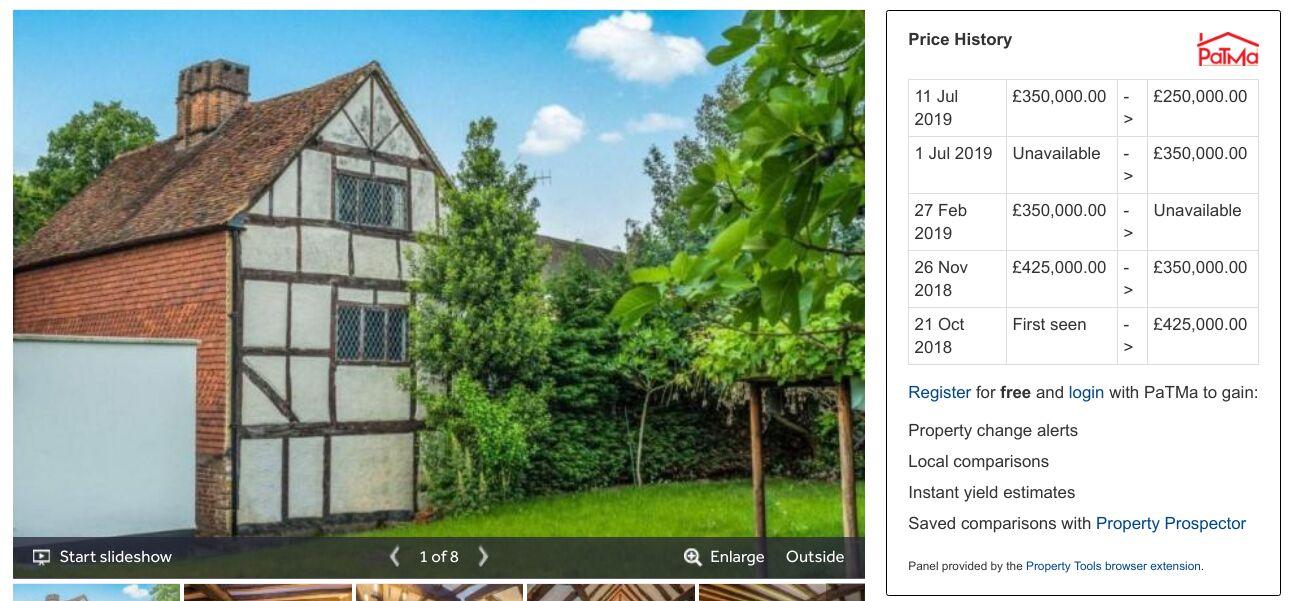 Beyond Property Bee
Pricing history isn't all that the PaTMa Property Tools browser extension provides though. It goes beyond what Property Bee used to include with instant buy-to-let rent guidance, ROI and yield estimates.

The rental estimate is drawn from similar properties in the local area, taking a median rent as the basis for the estimates shown in the browser extension. Combining this with default figures and calculations from PaTMa's free buy-to-let profit calculator allows the inclusion of yield and return on investment figures based on the listed asking price.
Extra information on similar local properties that can be used as comparisons is also shown in the browser extension panel within the Rightmove page.
Use the local comparison data to help judge the sale asking price as well as the estimate rent used for the yield and ROI calculations. You can easily customise the input figures and get a customised profit calculation for the property by saving it as a prospect. Once saved you can enter your own expected purchase price, refurbishment estimate and forecast rent. Even custom running expenses can be entered to create your own accurate buy-to-let profit forecast.
Getting Started
This short video shows how easy it is to get started with the PaTMa Property Tools browser extension in Chrome. Installation is just a few clicks and you'll start seeing property pricing history on Rightmove immediately. Register for a free PaTMa account and login to instantly benefit from the extended property listing data and comparisons - inside your browser, on the Rightmove pages.
Efficient property investing
Property Prospector from PaTMa is designed to continue on from the free browser extension, helping you organise, track and compare your potential property investments.
PaTMa's mission is to make property investing more efficient, saving you time and money with simple, streamlined processes.