Today, successful buy to let calls for more than just having a 'nose' for it. Successful property investors need to be able to analyse potential property deals to try and ensure that they will return a profit.
But analysing buy to let property deals is not always easy, can be time consuming and is not all that much fun! Fortunately PaTMa offers a number of tools to help you analyse property deals quickly and easily.
Here we will introduce our latest tool – our Free Property Deal Analyser Spreadsheet – and explain how it can help you identify better buy to let property deals.
There are a number of things you need to look at when analysing a deal. This quick buy to let deal analyser spreadsheet can help provide the really important numbers like yield, ROI (return on investment) and profit easily.
Plus the spreadsheet can also help you analyse mortgage affordability, ie. whether the deal is viable using standard mortgage affordability criteria.
How to use PaTMa's Free Property Deal Analyser Spreadsheet
Spreadsheets can be very useful for financial analysis. Snag is, they take time to create and can be unwieldy. We've done the hard work for you with our free spreadsheet.
The Free Property Deal Analyser Spreadsheet is a straightforward way to analyse property deals in minutes. It will help you analyse deals even if you don't like spreadsheets!
To get started download the spreadsheet here: Free Property Deal Analyser Spreadsheet.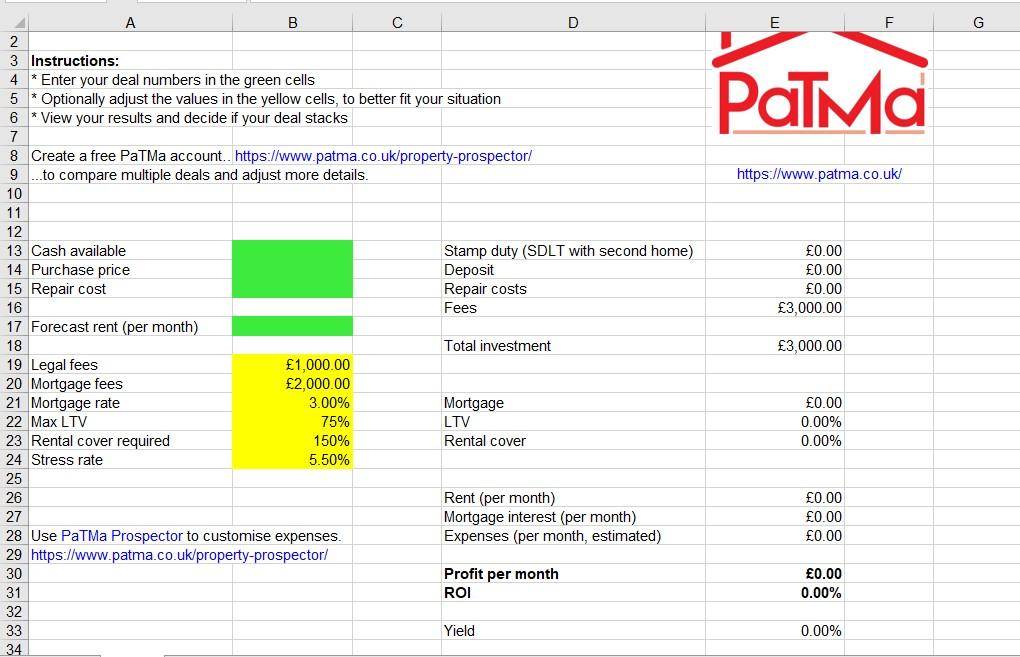 Then, this is all you need to do to analyse your potential property deal in three simple steps:
Step 1
Start on the LEFT side of the page. Enter some basic numbers into the GREEN cells:
Cash available
Purchase price of the property
Estimated repair costs, if any
Forecast rent per month
Step 2
Review the figures in the YELLOW cells. These are pre-filled using some standard assumptions but you can adjust them to suit your own circumstances:
Estimated legal fees
Estimated mortgage fees
Mortgage rate for your mortgage
Maximum LTV possible
Rental cover required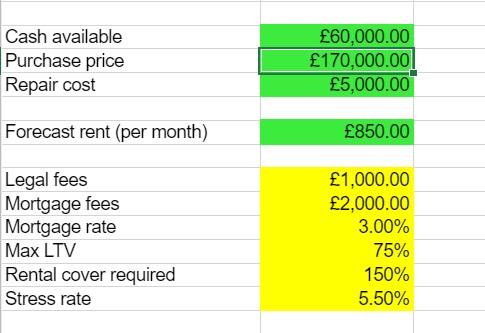 Step 3
Now view the RIGHT side of the page. The Free Property Deal Analyser Spreadsheet does the analysis for you and presents you with all the basic information you need about the deal.
You will see:
Plus other invaluable information:
The Stamp Duty payable, automatically calculated for you.
The deposit payable (after repair costs and fees are deducted from your available cash).
How much mortgage you will require.
The mortgage loan to value (LTV) based on the above figures, and whether it meets the appropriate criteria.
The rental cover figure, and whether it meets the appropriate criteria.
All this essential financial information is presented in a clear and simple format to enable at-a-glance analysis.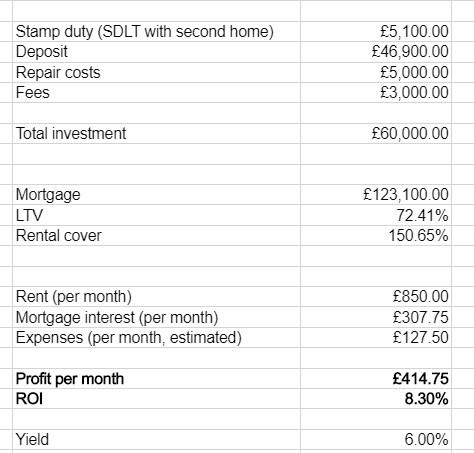 You can also tweak these figures if you need to. You can see what impact a different purchase price, different rent or different mortgage terms would have and see if they would make the deal more or less attractive.
You can then save your spreadsheet. You can access and use the information whenever you like. You can also share it with others.
Download The Free Property Deal Analyser Spreadsheet here.
More tools to help you analyse your property deals
While spreadsheets are a useful tool they are not for everyone. Fortunately PaTMa offers more tools to help you analyse buy to let property deals without using spreadsheets.
PaTMa's free Buy to Let Property Profit and Tax Calculator is an online version of the spreadsheet. Just input some basic numbers relating to the deal and then investment needed, yield, ROI and forecast monthly profit are calculated for you automatically.

PaTMa's Property Prospector is a truly powerful and professional property deal analyser. Prospector can do everything the spreadsheet can do and much, much more!
With Property Prospector just add a property you are interested in as a prospect, add some figures including price and costs, then customise to suit your own circumstances. Prospector then instantly calculates yield, ROI, monthly and annual profit, a five year profit forecast (before tax) and estimated capital gain.
Property Prospector analyses mortgage affordability. It can also show the impact of Section 24 according to your tax band.
Property Prospector can also show you an extensive range of price and other important information about the area. You can find local price and rent comparables and even see the property on a map and on Google Streetview.
Plus, Property Prospector offers powerful functionality that spreadsheets cannot. With Prospector you can add any number of buy to let (and also buy to flip) properties and compare them back to back to find the best. You can see different figures based on different offer prices to find the optimum offer point.
If you decide to proceed, Prospector enables you to track the deal including initial enquiry, viewings, contacts, offers plus acceptances/rejections and even price changes too.
Find out more about PaTMa Property Prospector here.
More useful resources
Here are some more useful resources from PaTMa to help you analyse your property deals:
How To Find And Analyse The Perfect Property Deal