Being a property investor and landlord involves many different jobs. It can be a juggling act at times!
In particular, sourcing new property deals can involve a lot of juggling. You might have many possible buys, viewings to attend, details to check, quotes to obtain, offers pending and many other tasks all on the go simultaneously.
It can be overwhelming, and it's easy to lose track of things. That can mean you miss good property deals, or even make costly mistakes. One solution to this problem, however, is to have a proper system for tracking your property deals.
The benefits of tracking property deals
First and foremost it means important tasks won't get overlooked. It means good opportunities won't slip through your fingers. It reduces the risk of good deals falling through or going wrong by not acting at the most appropriate time.
Proper tracking can also mean you can take advantage of unexpected bargains. For example, price reductions. Or where a property you're interested in is withdrawn from sale and subsequently relisted.
Proper tracking can also help you avoid overcommitting yourself to too many deals.
Ultimately tracking property deals helps you be better organised and more efficient. It saves time, saves effort and can even help you make more money.
How to track property deals easily and efficiently
There are several ways you can track your property deals: You can put reminders in a diary, rely on your memory, or even stick notes on the fridge! But it is much better to have a proper system for tracking your property deals.
Here are some tips on tracking your property deals using the powerful deal tracking function in PaTMa's Property Prospector.
Identify your prospects. Identify properties you're interested in buying using property portals like Rightmove. Then add them as a 'prospect' on Property Prospector.
Analyse your prospects. Analyse each prospect using Prospector's powerful analysing tools to see if they fit your investment criteria.
Here's a post on How To Find And Analyse The Perfect Property Deal to help with this.
Once you've done that, decide whether to take the property forward as a potential buy, rule it out, or perhaps just monitor things and wait and see what happens.
Be methodical. If you decide to pursue the prospect further then have a system for progressing the deal. Prospector, for example, allows you to create 'actions' which you can use to easily track and monitor progress on the deal.
With Prospector you can track not just one property deal but as many as you like. You can compare them back to back. You can see exactly where you are at any one time, even if you have multiple prospects all at different stages.
Track all your viewings. Property viewings take travel time, personal time and so can be expensive. Managing them efficiently can be a real time and money saver. With Prospector you can schedule viewings to make best use of your time. You can add viewing notes such as details to check, questions to ask, impressions of the property and what the outcome of the viewing was. You can even get reminders of the date and time if you need them.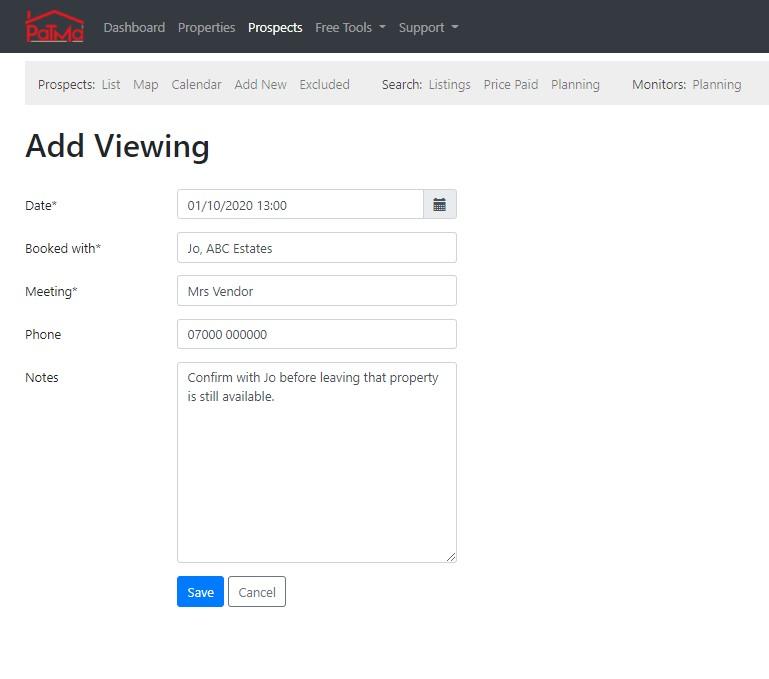 Track all your contacts. Every property deal will involve several contacts including the agent, the vendor, plus perhaps builders or contractors if you need quotes for repairs. Again, efficient tracking can be a real time and money saver. Prospector allows you to add all these contacts to the relevant property, retrieve their details any time you need them, and record what has been discussed or agreed with them.
Track all your offers. The offer process can be a tricky one, calling for offers, counter-offers and, sometimes, shrewd tactical negotiations! Often it is necessary to chase up offers with agents, or perhaps make further offers.
Prospector allows you to track offers you have made, the date and the outcome such as accepted, rejected, counter offer made or waiting for a response – and add relevant notes. You can also set alerts which will remind you to follow up offers (or any other actions or contacts) if you want to.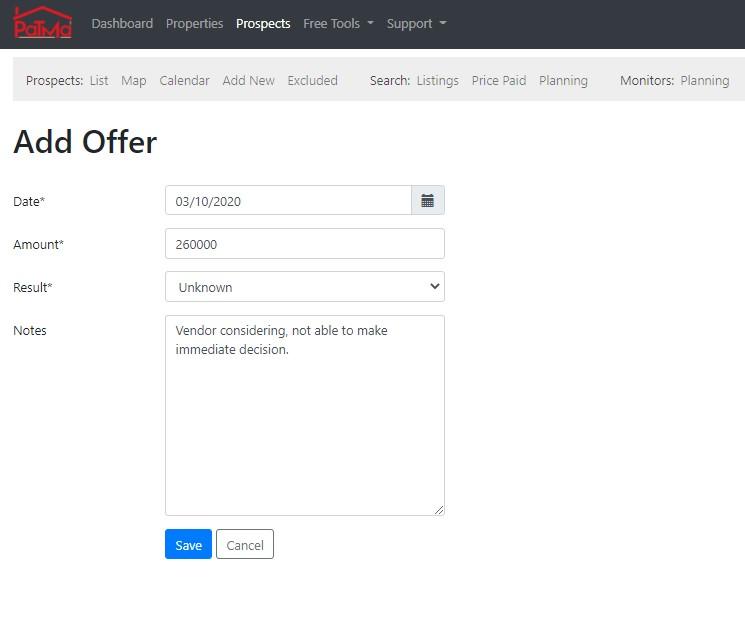 Monitor everything carefully. While some property deals are straightforward, many are not. Property Prospector allows you to monitor everything easily. Plus, Prospector is not just a tracker but a prospecting calendar. Its at-a-glance clear calendar view shows a snapshot of all your actions whether contacts, viewings, offers and reminders all together on one page.

Sometimes, the best deals are the ones that don't happen the first time! This is where tracking can really help you complete more and better deals. For example, if a property you are tracking goes off the market, is later relisted, or if the price falls Prospector will alert you to the opportunity automatically. You can decide whether to make a further offer and perhaps bag an unexpected bargain.
Why track .... why not?
Whilst it's perfectly possible to find and complete a property deal successfully without tracking it – you may have been relying on your skills of memory for years – using a proper tracking system gives you that extra and very powerful advantage when looking for buy to let properties.
Tracking saves you time, money and hassle. It helps you find more and better deals, complete successfully on more of them and avoid deals falling through needlessly. And, when tracking is so easy to do, there's really no reason not to.
When it comes to deal tracking Property Prospector offers a range of tools which you can use to not only track potential purchases but to find, analyse and compare them too.