Today it's more important than ever that any new property investment opportunities you consider are carefully analysed, so that only the best ones make it to your shortlist.
Snag is, that often leads to information overload. And tracking and interpreting all that information isn't easy. You might have some information on computer, some on your phone, some of it on paper and even some of it 'in your head'. You might try to get better organised using spreadsheets, but that isn't always easy either.
While these old fashioned methods work to some extent modern day property prospecting calls for a modern solution.
PaTMa's Property Prospector is just such a solution. It is a smart and powerful tool for collecting, analysing and tracking all your prospective new investment purchases.
Here we'll look at some of the new features available in Property Prospector, and how they can save you time, make you more efficient and help you make better property investment decisions.
To get started. Start by simply adding the properties you're interested in as a 'prospect' on Property Prospector. It takes only a few minutes, and you can automatically pull in listings from portals like Rightmove.
Once that's done a whole range of powerful features becomes available to you ....
You can create and progress actions. Once you've added prospects you can see all the relevant information about them and sort them according to different criteria. You can create reports for one property, or several, and compare. You can decide which prospects you might want to rule out, and which to take forward.
The 'Actions' section within each listing gives you a snapshot of current progress on every prospect at any point in time, and makes it much easier to plot your next move.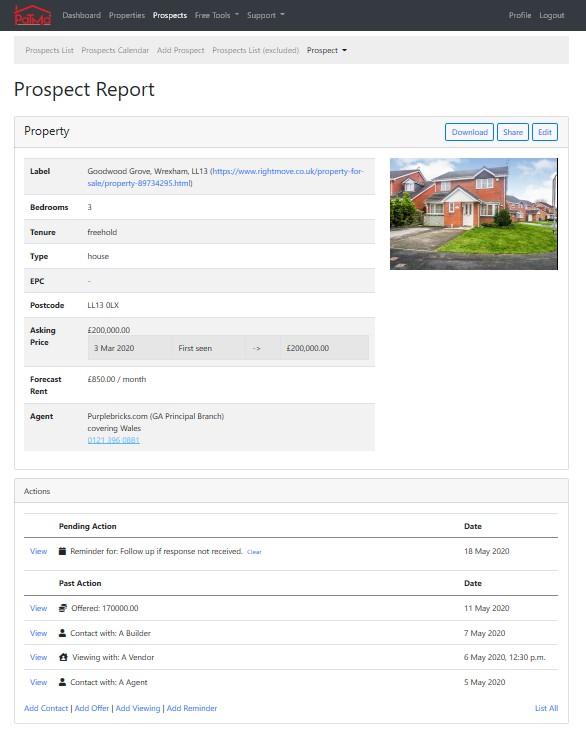 You can add contacts – and contact records. You can add all the relevant contact details, including email and phone etc., to each property listing. This can be the agent, vendor, a builder or contractor and any other party.
Not only that but you can add contact records. This way you can recall what has been discussed with or agreed with any contact easily at any time.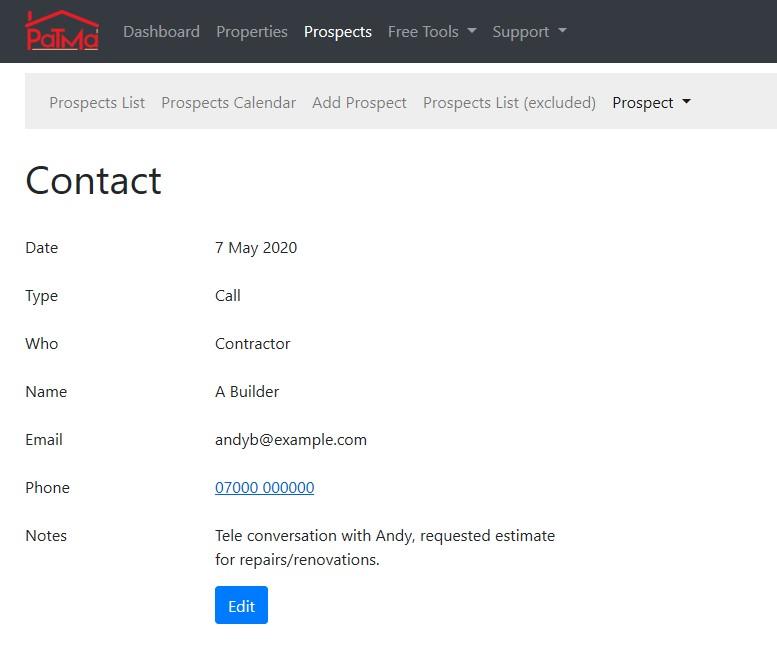 You can store viewing information. Viewing a property is, of course, a key step in every new investment purchase. Property Prospector makes managing viewings simple. You can add details of when you have arranged to view a property and who you have arranged to meet. You can also add viewing notes such as details you want to check, questions you want to ask, and what the outcome of the viewing was.
You can record and monitor offers. Whenever you offer on a property, Property Prospector lets you record the amount, the date and whether it was accepted, rejected, is pending and any other relevant information.
This feature means you'll know at any one time where you're at with offers. You'll never be at risk of offering too much, overcommitting yourself, or even missing a good opportunity by not acting at the appropriate time.
You can receive reminders, automatically. Property Prospector manages all the little details for you, so you can focus on the bigger investment picture.
You can receive a reminder of an upcoming viewing appointment if you'd like one. It can also prompt you to, for example, follow up with an agent to find the outcome of an offer or perhaps make a further offer.
You can see all your important actions and dates in a simple, at-a-glance-calendar view. Property Prospector is not just a log book but a dedicated prospecting calendar. Its simple, clear calendar view visually shows all your actions whether contacts, viewings, offers and reminders all together on one page.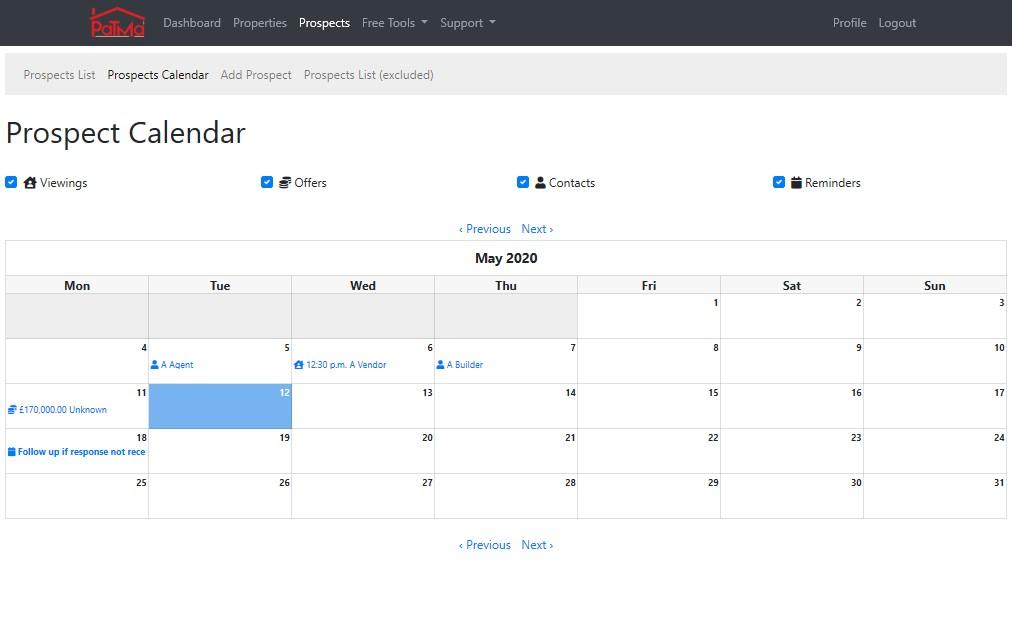 All these valuable Property Prospector features are included as part of the paid-for subscription at just £97 for a full 12 months. Your subscription is unlimited, so you can add as many properties and as many actions as you like during that time. But Property Prospector can easily repay its cost in time saved and opportunities spotted many times over with just ONE property alone.
But what if you're not quite ready to subscribe yet? No problem! PaTMa offers free tools you can use to find and track your investments:
PaTMa Buy to Let Property Profit and Tax Calculator. Just enter expected price, repair cost and monthly rent and this tool will calculate yield, ROI, profit, required investment, stamp duty, available mortgage and more essential figures. Find the PaTMa Buy To Let Property Profit and Tax Calculator here.
PaTMa Browser Extension. PaTMa's own Property Investigation Tool works as a browser extension with Rightmove plus Zoopla and PrimeLocation. Price history and quick profit calculations are overlaid onto every property listing you view. Find the free browser extension here.
PaTMa Property Prospector Free Tools. Alongside the paid subscription Property Prospector offers a range of tools which you can use to track, compare and manage potential purchases and calculate valuable financial data about them all for free. You can choose to upgrade to a paid subscription as and when you like.
Whichever version you use, Property Prospector means you can forget scribbled notes, confusing spreadsheets and just having to 'remember things' for ever. It provides you with everything you need to collect, analyse, track and manage new prospective property investments in one easy to use package. Whether you are looking for hundreds of investment properties – or just one – Property Prospector will save you time, make you more efficient and help you make better property investment decisions now and in the future.
Here's full details of the PaTMa Property Prospecting Tool and how to sign up.