When it comes to finding investment properties quickly and efficiently knowledge is very much the name of the game.
As well as asking price and likely rent, yield and ROI figures can help you spot the good investment opportunities from the not-so-good ones. PaTMa's tools are designed to deliver and help you make sense of this often complex information easily.
But to be truly useful, and truly powerful, prospecting tools like this need to be customisable so that they can provide accurate data.
Now, PaTMa's free browser extension is highly customisable to give you an enhanced level of financial information on any property you're thinking of buying.
Here's how it works: PaTMa's browser extension enhances the property listings on Rightmove plus Zoopla and PrimeLocation. When you view any property listing its price history (when first seen and any price changes) plus valuable quick profit calculations including ROI and yield are instantly revealed.
You can find more details and install the free browser extension for yourself here.
Like any tool, PaTMa's free browser extension makes a number of assumptions in order to provide you with these estimates.
But the very newest features of the browser extension allow you to customise financial details to suit your own requirements and so provide more accurate, more useful figures than ever before!
Here are some of the new features and how they can benefit you:
Customise your mortgage rate. The mortgage rate you'll be paying can obviously make a huge difference to the viability of a particular property. PaTMa's browser extension allows you to adjust it to the likely current mortgage rate, or even an actual mortgage rate available to you.
Tip. To customise your data simply amend the settings by clicking on the cog to the right of 'Estimates'.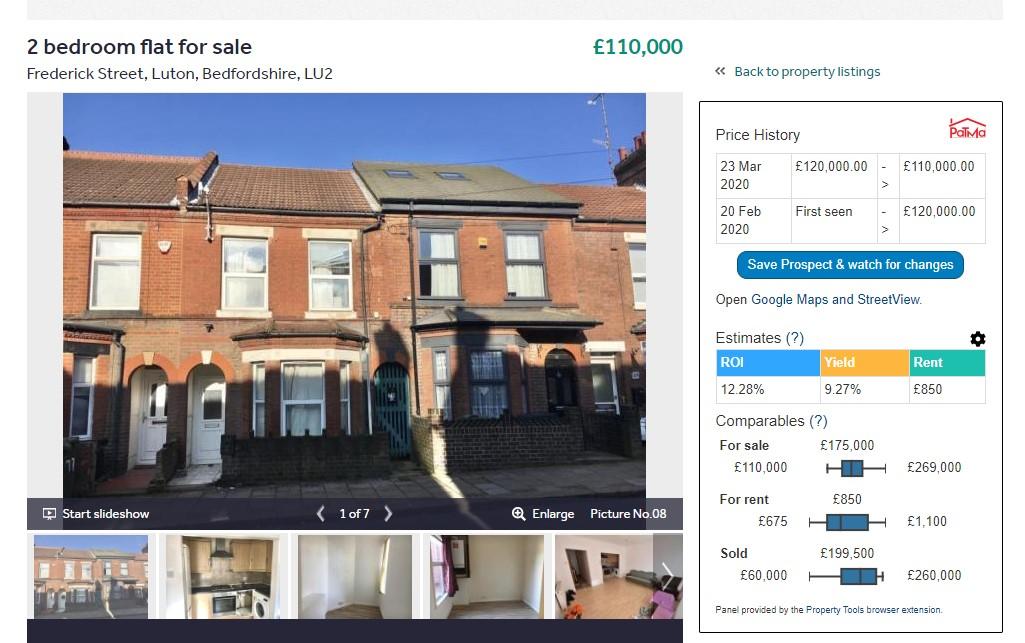 Adjust for mortgage fees. If there's an arrangement fee or other fees attached to your mortgage just enter it in to ensure it is included in the financials.
Customise according to maximum loan to value (LTV). The tool assumes maximum 75% LTV. But you can easily customise it to whatever the maximum LTV is on your chosen mortgage, or any LTV you've set for yourself.
Customise the rental cover level. Rental cover is a restriction on buy to let mortgages to limit the loan amount based on the rent. Here's more about rental cover. It ensures there's a little 'spare' in the rent over and above the monthly mortgage payment – or perhaps even a stress rate mortgage payment. The percentage rent cover lenders require can vary according to individual properties and individual landlords.
PaTMa's browser extension allows you to set the rental cover level your lender requires, or even one you wish to set for yourself.
Customise the mortgage stress rate. Stress rate is the interest rate used to calculate the rental cover level and again it varies between lenders, properties and landlords. The browser extension automatically assumes what is currently a good rule of thumb. But if this changes, or you want to apply your own stress rate, this takes only seconds to do.
The mortgage-related tools are absolutely invaluable in today's mortgage market. They will help you match prospective properties up with the most suitable and cost effective mortgage, and make your investments resilient for the future.
With the new features in the browser extension you can also ....
Fully account for legal fees. Legal fees will vary according to what your solicitor or conveyancer charges plus other variables such as whether freehold or leasehold etc. PaTMa's browser extension allows you to add in an estimate or even an exact quote from your solicitor/conveyancer.
Accurately allow for the cost of Stamp Duty. The browser extension automatically allows for the extra Stamp Duty costs you may be charged as an investor or second home buyer. (If you're not it can easily be adjusted.) It will even automatically calculate the different rates for England and Northern Ireland, Scotland and Wales too.
Now moving on. On top of the new features on offer in the PaTMa free browser extension, PaTMa's Property Manager now offers improved filter and search facilities too.
Here's what Property Manager is: PaTMa Property Manager software is designed to make life easier for landlords, letting agents and property managers by integrating everything you need into one simple package. It helps you create, manage and track tenancies and related documents, rent payments, expenses and maintenance. It can show you profit and loss, provide portfolio insights and even produce figures for your landlord tax return. It saves you time and hassle and helps to maximise the returns from your properties.
One of the many benefits of Property Manager is that it allows you to record and track outstanding property tasks involved with the running of your portfolio. Its simple to use functionality means you'll never lose or forget important tasks – you can get reminders if you want them – and you can easily reference them later.
Now we've added improved filter and search facilities to make tracking these tasks even more efficient. You can see the status of all tasks, whether open or closed or all tasks together. You can easily see what tasks apply to a particular property, or a particular tenant.
Individually these new features might be quite small. But together they will help you do more, save you time, help you be more efficient and so make more money from your portfolio.
You can find more information about Property Manager here.
And don't forget, if you want to make use of PaTMa's browser extension to help you find and analyse prospective new investments you can find more details and install it here. You'll need a PaTMa account but that, together with the browser extension, is absolutely free.