As a property investor there are many things to research when planning a new investment, including price levels, your costings and the location. One of the things that it is easy to overlook is the issue of planning applications in the area in which you're planning to invest.
The truth is though, planning applications can have a major impact on your investment – both negative and positive – and in many different ways.
Here are some examples of the importance of being aware of planning applications:
A near neighbour could be planning a large extension which will overshadow your planned purchase.

A developer could be planning a commercial or industrial development nearby which could cause noise and light pollution and increase traffic levels.
In either case the resulting development could make your property difficult to let, reduce the achievable rent or affect its resale value.
Planning applications aren't always bad news of course. They can sometimes alert you to opportunities you might otherwise miss. For example:
If the neighbours are planning improvements the area could be on the up. Rents could rise and property values could increase as a result.
There is also what is sometimes known as the 'Starbucks effect' or 'Waitrose effect' (or similar) where some kinds of new businesses moving into an area are believed to push up property values.
One report claimed that even the opening of an Aldi supermarket locally raised property values by an average of 2.5% or £5,000!
A new industrial or commercial development could mean new jobs coming to the area which could boost demand for homes. This could push up rents if you want to buy to let, or push up prices making a profitable development or flip project possible.
Some planning applications can also have impacts that are more difficult to assess, so need further investigation. For example:
If someone is applying to set up a HMO that could suggest the area is not ideal for a family buy to let or development. On the other hand it could mean there is a rising demand for more shared accommodation, which could be perfect if you are a HMO investor.

A developer might have just been granted planning consent for a commercial to residential conversion scheme. This could increase the supply of rental property and make it harder to let your buy to let. Then again, it could mean there is high demand for new homes to rent or buy. It could mean you would be able to get planning consent for a commercial to residential development too.
So how, as an investor, can you find out about all-important local planning applications as quickly and easily as possible?
Yes, later on in the buying process your solicitor or conveyancer is likely to bring some of these planning applications to your attention before exchange of contracts following a local search. But they will probably not be able to tell you about all such schemes across the wider area.
In any case it is better to be aware of planning applications well before you get to this stage, so you can decide whether to make an offer or not in the first place. (You may even be able to use planning information as part of your negotiations to get a better price.)
While it is true that planning applications are a matter of public record finding out about them can be very difficult. Firstly you have to know which local authority is involved, search to find their planning applications portal, and search again to find details of local applications. Different local authorities have different planning websites and these can be very user-unfriendly and hard to navigate. So the whole process of researching planning applications manually can be hard work and very time consuming.
PaTMa's Planning Prospector offers an interactive planning permission explorer tool which finds and presents information on local authority planning applications automatically. So you can instantly see what's being planned in the area with no need to spend hours hunting this important information down.
Once you add a property as a prospect the planning permission explorer will:
Automatically search for and show all planning applications near each prospect with date and address in a clear list. You can easily filter by distance, date and status.

Show whether an application is awaiting a decision, has been granted or refused.

Provide clear summary details of the application, with links you can quickly click through to the relevant local authority site if you need more comprehensive information.

Enable you to save a search. Then PaTMa will keep monitoring local applications for you and send you an email alert when new planning applications are made in your target area.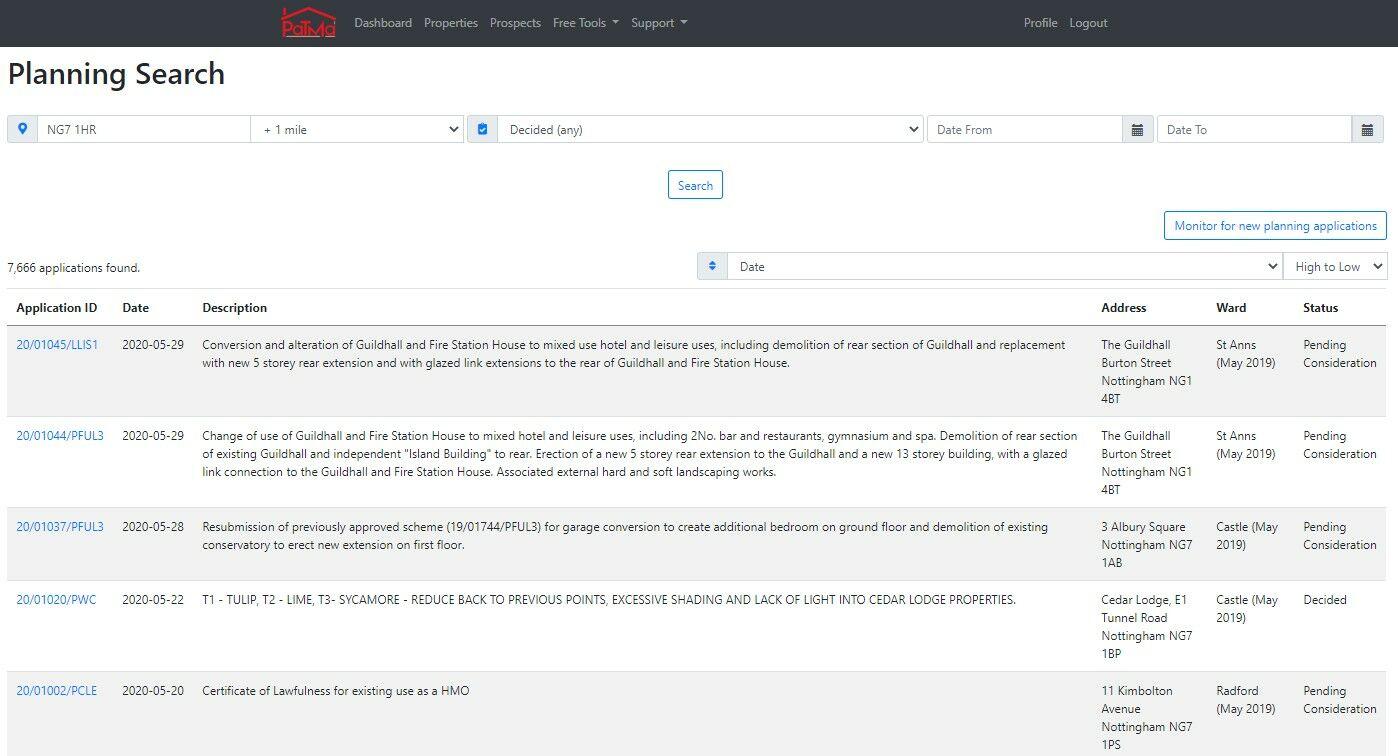 To monitor the situation simply click on 'Monitor for new planning applications'.

You don't have to have a particular property purchase in mind to use planning permission explorer. Just tap in the postcode of your preferred investment area and get a list of all planning applications in that area and sort it to suit your criteria.
You can find more details about planning permission explorer here. You'll need a PaTMa account to make use of this tool, but this is free. Planning permission explorer provides some basic planning permission for free. You can upgrade with a Prospector Pro subscription for extensive planning permission information, plus unlimited searches and alerts.
Whichever method you use to find out about planning applications, the last thing you want is only to find out about these applications once you get the keys to your new property investment!