Owning or managing rental property involves a requirement for regular gas safety checks and electrical safety checks. Not only that but safety certificates need to be kept and provided when needed, and checks renewed periodically. In this post we'll look at the latest rules on safety certificate compliance and how to make safety certificate management more straightforward.
Gas Safety Certificates
The Gas Safety (Installation and Use) Regulations 1998 mean that all gas appliances and flues in all rental properties in the UK need an annual gas safety check by a Gas Safe registered engineer.
Gas Safety Certificates must include: The address of the relevant property, the landlord or agent's name and address, a description of each appliance and location, results of the check including defects and any repairs needed plus the engineer's details and date.
The engineer will issue a Gas Safety Certificate also known as a Landlord/Home Owner Gas Safety Record or form CP12. You must keep each certificate until two subsequent checks have been carried out.
You can order a gas safety check at any time but if it is within 10-12 months of the last check it won't affect the original check expiry date.
Penalties. Breaches of gas safety regulations are a criminal offence. Landlords and managing agents can be fined £6,000 for each breach and be sentenced to six months imprisonment.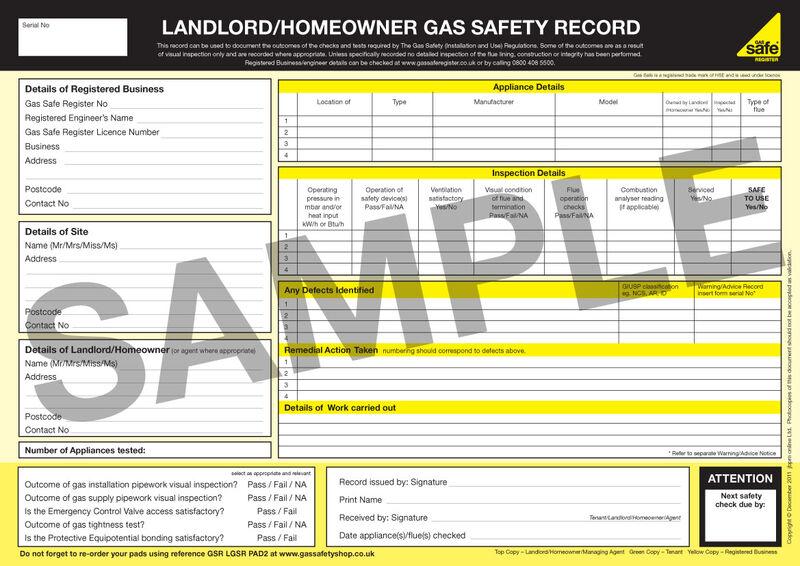 Electrical Installation Condition Reports
Electrical safety testing has previously been optional, as a way for landlords to demonstrate that their properties are electrically safe, for most properties. However from 2020 they are a legal requirement in England. The Electrical Safety Standards in the Private Rented Sector (England) Regulations 2020 state that fixed electrical installations must be tested for all new tenancies starting from July 2020. Existing tenancies will need electrical testing from April 2021.
Similar regulations have applied in Scotland since 2015 and are part of the Code of Practice for Rent Smart Wales.
An acceptable way to comply with these regulations is to order an Electrical Installation Condition Report or EICR from a suitably qualified electrician. The electrician will conduct an assessment of the fixed electrical system in a property in relation to the IET Wiring Regulations 18th Edition, also known as BS7671. They will identify any faults according to a standard classification code as follows: C1 Danger present - immediate remedial action required. C2 Potentially dangerous - urgent remedial action required. C3 Improvement recommended. FI Further investigation required.
EICRs last for up to five years but can be shorter if the tester feels it is appropriate. An EICR must be kept on file until the next one is carried out.
With the introduction of the new regulations a property that already has a valid EICR, or an Electrical Installation Certificate or EIC (which may be the case with a new build property for example) will not need to be tested again until expiry.
For HMOs Electrical Installation Condition Reports have generally been required as part of HMO licence conditions for some time and the new regulations will continue that requirement. EICRs for HMOs will also include testing of fire and smoke alarm and emergency lighting systems.
Penalties. Local authorities can issue civil penalties of up to £30,000 for each breach. They can also issue enforcement notices requiring remedial work to be carried out within 28 days.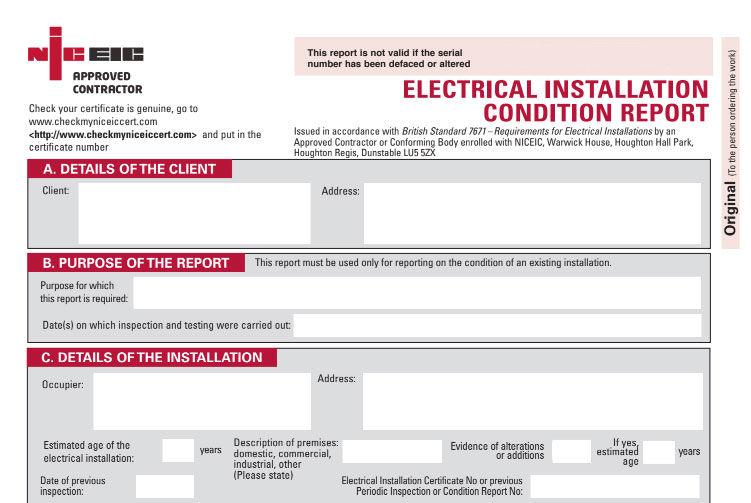 PAT testing
If you provide portable electrical appliances to your tenants then you should consider what portable appliance testing or PAT testing may be required.
A requirement for regular, often annual, PAT testing is usually a licence requirement of a HMO licence. For other properties it is recommended at an interval necessary to ensure safety but is not mandatory in England.
As part of the PAT test a label showing the date of the test and whether the appliance passed or failed should be attached to each appliance. A schedule of items tested should be produced and retained.
When do you need to provide safety certificates?
Safety certificates need to be provided to tenants before a new tenancy begins. Renewals need to be provided to existing tenants with 28 days of being carried out. You may also need to provide them to the local authority within 7 days on request.
How to make safety certificate management easier
It is good practice to set up a system to ensure not only safety certificate compliance but good safety certificate management. This will ensure certificates are provided to tenants as and when required, are renewed before they expire and that you have a record of doing this.
You can use a paper filing system to keep certificates and use a paper or online diary or calendar to remind you. This may be adequate for one or two properties but it soon becomes time consuming and cumbersome, with a risk of losing the paperwork or forgetting renewals.
PaTMa provides a simple and efficient way to manage your safety certificates, store and supply them to tenants as necessary and can remind you when renewals are due.
With PaTMa Property Manager you can:
Upload and store all your safety certificates securely alongside the property and tenancy to which they apply.

Retrieve safety certificates easily any time you need them.

Send and receive from other parties, including using e-signatures.

Opt to receive reminders that certificates require renewal by email or text. Reminders are sent in plenty of time to arrange renewal.

Easily obtain contact details for the service providers you use.

See a paper trail showing that you have followed all legal requirements.
Apart from the dangers posed to tenants the penalties for letting safety certificates lapse are high. PaTMa eliminates safety risks, ensures that vital safety certificates never get overlooked and helps you stay compliant.
Safety certificate compliance and management is just one of the many ways PaTMa Property Manager saves time and money. This article looks at 7 Ways Property Management Software Can Help Landlords Comply With Their Legal Responsibilities.