When I'm looking at potential investment properties on Rightmove (or other property portals), I always like to work out where they actually are on a street.
Knowing exactly where a property is means you can check what the neighbouring properties are like, what parking is like and generally get a feel for the street, or that part of the street.
Technology means I can do this without leaving my desk - just from wandering around StreetView. When you pair that with the satelite view of Google Maps, there's even more knowledge available - before you even think about booking a viewing.
Looking around the satelite image can reveal all sorts of useful information for a property investor (or any property purchaser!). You might be able to see local features that are otherwise hidden from view - perhaps facilities or properties that back onto the property from another road or access point. Plus it's great for getting an idea of parking, walk ways and distances between them.
The trouble is, the "pin" for a property location on Rightmove, Zoopla, and others, is often not centred on the actual property that you're looking for. There's an embedded Google Map and probably also an embedded Google StreetView, but trying to check the property picture while navigating around StreetView is tricky; not to mention then trying to work out where you've wandered and match it back to the map!
So PaTMa includes a simple solution. Available directly from the property tools browser extension.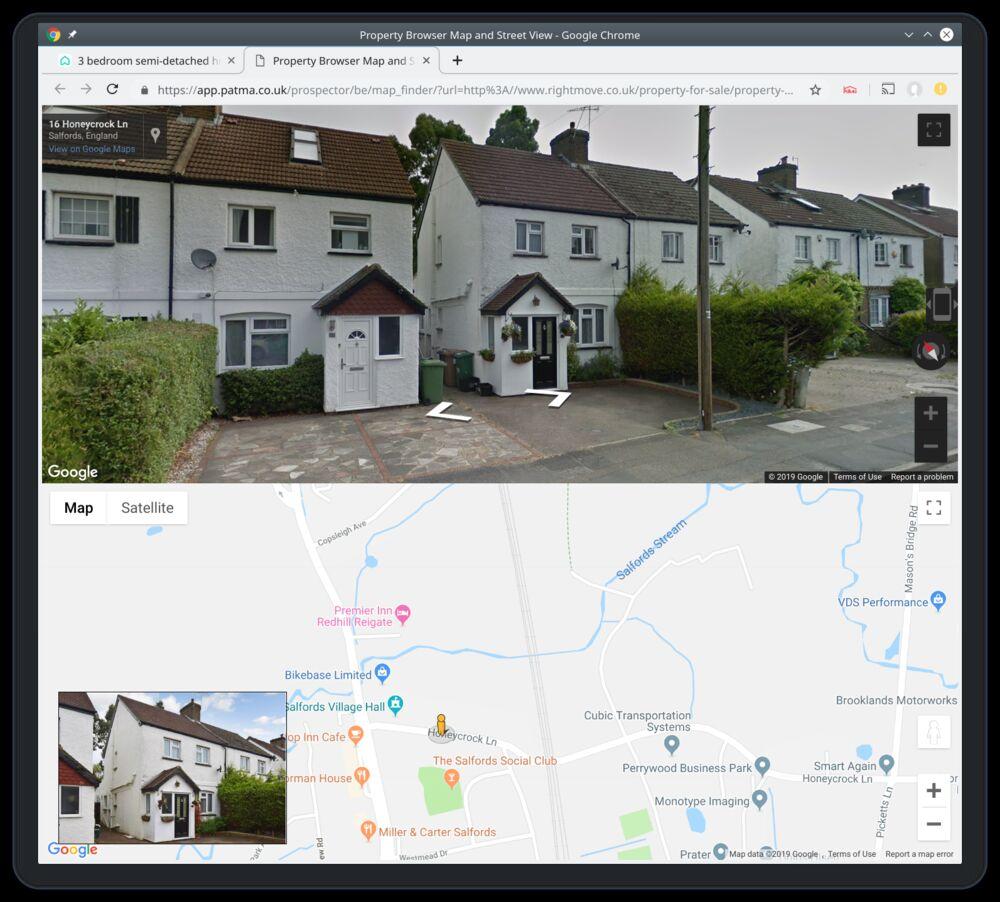 StreetView Property Finder
This PaTMa tool presents a split screen view. The top half is Google StreetView and the lower is Google Maps. These two parts are tied together so as you walk around in StreetView, the map location also updates.
To make it that bit easier to locate the actual property you're interested in, an overlay is also shown with the property listing photo.
All in one screen you can see the property you're looking for while wandering around the street to easily locate it's actual position. Once found, it's easy to view neighbouring properties and other street features. Plus the Google map can be switched to satelite view for added research value.
The tool is available for free and accessed via the PaTMa property tools browser extension.