When you're managing property you have to stay on top of your gas safety certificates. Both for the safety of your tenants and to meet your legal requirements.
A gas safety certificate lasts for a year and remembering when it's due for renewal, especially if you're keeping track of several properties, can be a difficult task.
Reminder Options
Here are some possible approaches we've seen before that you could try:
A paper diary - put the expiry in next year plus a reminder to book the safety check a few weeks before.
An electronic diary - pretty much the same as above, Google Calendar is a good online diary if you need one.
A spreadsheet - a simple list of each property and the renew date should do it, make sure you sort them by due date and check it frequently though.
A reminder service - there's a Gas Safe specific one at www.staygassafe.co.uk.
Rely on your gas engineer to keep track - you're the one legally responsible though so we wouldn't recommend this.
Use the safety certificate features in PaTMa - never loose the certificate and get automatic reminders before renewal.
Recommended - PaTMa
Keeping track of all your safety certificates in PaTMa gives you two great benefits:
Always know where your latest certificate is - easily provide a copy to new tenants (a legal requirement) or anyone else as requested.
Receive automatic reminders to make sure you get the renewal booked in plenty of time.
It couldn't be simpler to add each new certificate as you receive them, here's a screenshot of the upload form: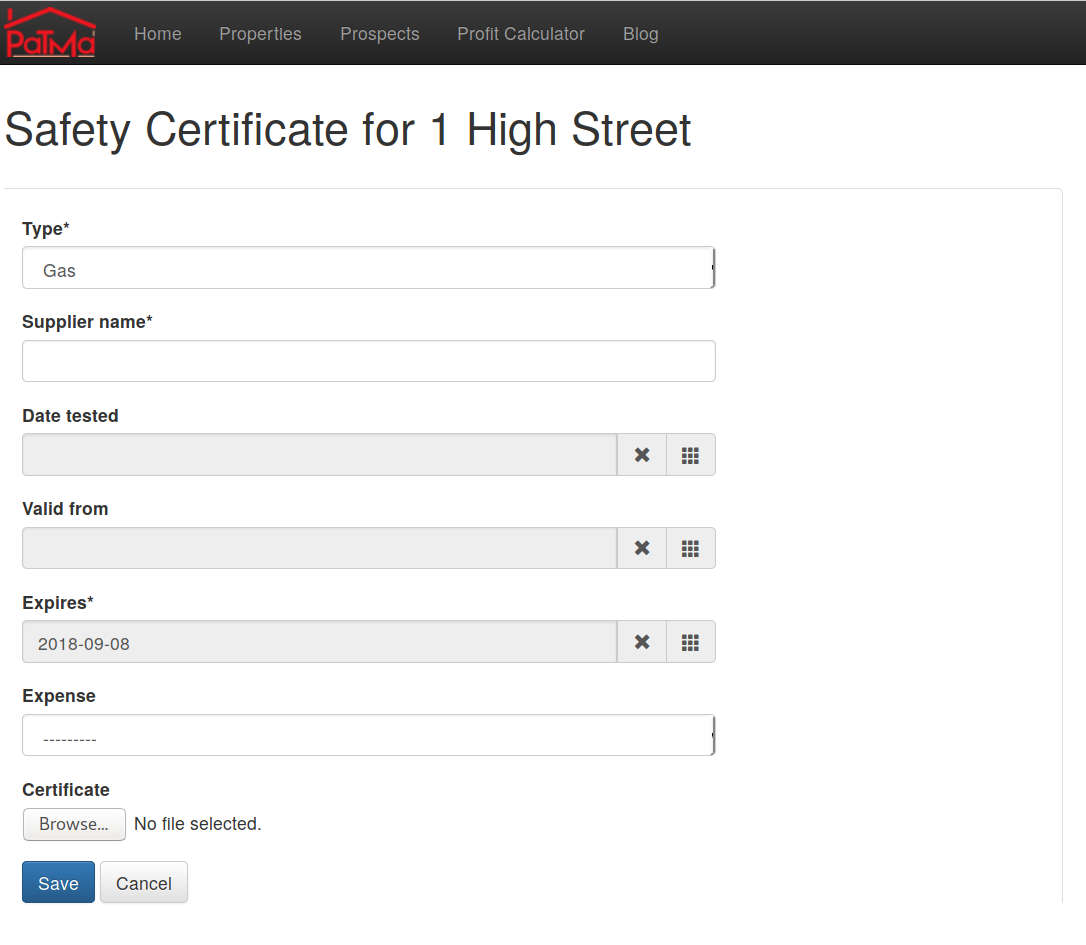 With your safety certificates securely uploaded and stored you can relax. Every day PaTMa checks through your properties and will email if any have safety certificate renewals coming up soon (30 days and again 7 days warning). You just need to pick up the phone to your favourite Gas Safe engineer to book the check. Here's what a PaTMa reminder email looks like:
Hi

 

Peter

,





Your

 

gas

 

safety

 

certificate

 

for

 

1

 

High

 

Street

 

will

 

expire

 

on

 

8

th

 

September

 

2017.





You

 

should

 

arrange

 

for

 

it

 

to

 

be

 

renewed

 

and

 

upload

 

the

 

new

 

details

 

on

 

https

:

//

www

.

patma

.

co

.

uk

/





Kind

 

regards





PaTMa



There's even an extra layer of reminder, just in case you might miss an email. You can turn on SMS reminders (paid plans only) and opt-in to receiving safety certificate reminders by text.
Simplify your life and use PaTMa to keep track of your buy-to-let properties.