Are you on the hunt for the perfect investment property? Well, we have some exciting news that's about to take your property search to a whole new level! Welcome to the enhanced world of property searching with PaTMa's upgraded Enhanced Property Search (EPS) tool. In this blog post, we'll walk you through the fantastic features that are designed to make your investment journey easier and more successful than ever before.
Introducing the New EPS Tool
First things first, let's introduce you to the star of the show - the Enhanced Property Search tool. In our latest walkthrough video, we're going to show you exactly how this tool can revolutionize your property investment game. You can watch the full video here or keep reading to get a sneak peek of what's in store!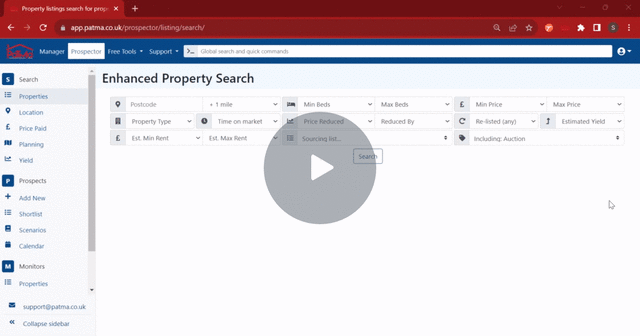 Revolutionary Search Filters
Are you tired of sifting through countless properties that don't meet your investment criteria? Say goodbye to that frustration because our EPS tool now comes with powerful search filters that are tailored to your unique investment goals. Here's what's new:
"Reduced by %" Drop-down: This feature allows you to filter properties based on the percentage by which their price has been reduced. You can now easily find those lucrative deals that match your budget.

The "Sourcing List": This is where the magic happens. With this list, you can refine your property search effortlessly by targeting specific criteria like:

Chain-free properties
Fixer-uppers (properties that need refurbishment)
HMO (House in Multiple Occupation) properties
Properties with existing tenants
Irresistible "cash-only" deals
Imagine the possibilities! Whether you're a seasoned investor or just starting, these filters will give you the power to find exactly what you're looking for.
Your Success, Our Priority
At PaTMa, your investment success is our top priority. That's why we've crafted these tools specifically for you. We understand that every investor has unique requirements, and our goal is to provide you with the resources you need to thrive in the property market.
Ready to Get Started?
So, are you ready to discover your dream investment property? The power is in your hands. Dive into PaTMa Prospector and explore all the incredible features of the EPS tool in action by watching our walkthrough video.
Happy hunting, and may you find your ideal investment property with ease!