Licensing for landlords is a complicated subject. You and your rental property may or may not need a licence depending on what type of property it is, its size, what area it's in and even just what street it is located on.
It's essential property investors are aware of licensing requirements before buying rather than after. Licensing regulations can be onerous and expensive. This advance knowledge can help you spot areas where it is easier and more cost effective to invest, and avoid areas where licensing requirements may be problematic.
Here are the different types of landlord licences that may apply in England:
HMO licences
If you have a property that is shared accommodation and meets the definition of a HMO or House In Multiple Occupation then you may need a HMO licence for it.
If your property is let to five or more tenants from more than one household, some or all of them share kitchen and bathrooms, and at least one tenant pays rent then your property will be considered to be a large HMO and will need a mandatory HMO licence.
All of these HMOs in every council area need a HMO licence.
Article 4 directions: Some local councils control how many standard residential properties may be converted into HMOs by introducing Article 4 directions. Article 4 directions mean planning permission must be applied for to convert a property from a dwelling house (use class C3) to a HMO for up to 6 people (use class C4). Note that larger HMOs generally require planning permission everywhere.
Article 4 Directions of this type may apply to a whole town or suburb but very often just apply to certain named streets.
Additional licensing schemes
Some local councils have additional licensing schemes, although they are not used extensively. These usually mean that smaller HMOs which fall outside the mandatory HMO licensing requirements as above require an additional licence.
Additional licensing schemes may apply to a whole town or suburb but very often just apply to certain named streets.
Selective licensing schemes
Some local councils have selective licensing schemes. These mean that a license is needed to rent out any property of any type, not just a HMO.
Selective licensing schemes may apply to a whole town or suburb but very often just apply to certain named streets.
Landlord licensing schemes
A few areas have introduced what are known as landlord licensing schemes across their entire council areas. These are essentially blanket selective licensing schemes but in practice mean that every landlord requires a licence.
Scotland, Wales and Northern Ireland
Scotland, Wales and Northern Ireland have their own licensing regimes which are different to the system in England but incorporate elements of it. In Scotland landlords need to register with the Scottish Landlord Registers. In Wales you'll need to comply with the requirements of Rent Smart Wales. In Northern Ireland private landlords must register with the Landlord Registration Scheme.
Why do councils operate licensing schemes?
Licensing schemes are operated under the framework of national law but local councils are responsible for introducing licensing schemes, issuing licences and enforcement.
Reasons given by councils for the use of licensing schemes are that they allow them to control the number of rented properties in a given area, regulate housing standards and control anti-social behaviour and crime. It is sometimes believed that they use them to raise revenue.
It is worth bearing in mind that some local councils make very little use of Article 4 directions, selective and additional licensing while others make extensive use of them.
What are the penalties for breaking licensing laws ?
The penalties for failing to obtain licences where they are required, or breaking the licence conditions, can be substantial. You can be given a civil penalty of £30,000 per offence for breaches of HMO licensing rules. A rent repayment order can be made requiring you to refund up to 12 months of rent. You can also be banned from letting your property.
So how, as an investor, can you find out about all-important local licensing regulations and costs as quickly and easily as possible?
There are two ways – the easy way and the hard way! The hard way is to find which local authority covers the relevant area, search for their website and navigate it (every local authority site is different) to find licensing information – which is often on many different pages. Then digest the information, decide which licence or licences you might need, find what costs will be involved and find how to apply.
The easy way is to use PaTMa's licensing tool. The licensing tool finds and presents information on local authority licensing requirements automatically. So you can see what HMO, additional, selective or other licences you might need instantly.
Once you add a property as a prospect the licensing tool will:
Automatically show what council covers that area, including the relevant ward.

Show what additional, selective and HMO licensing or Article 4 directions apply based on that exact postcode including comprehensive details of the scheme.

Show the current costs of any required licences.

Provide a contact phone number and link for the relevant local authority for more information or to apply.
Information is currently available for council areas in England.
Here's an example of the information provided by the licensing information feature. (The entry for each licence can be clicked to show more comprehensive details):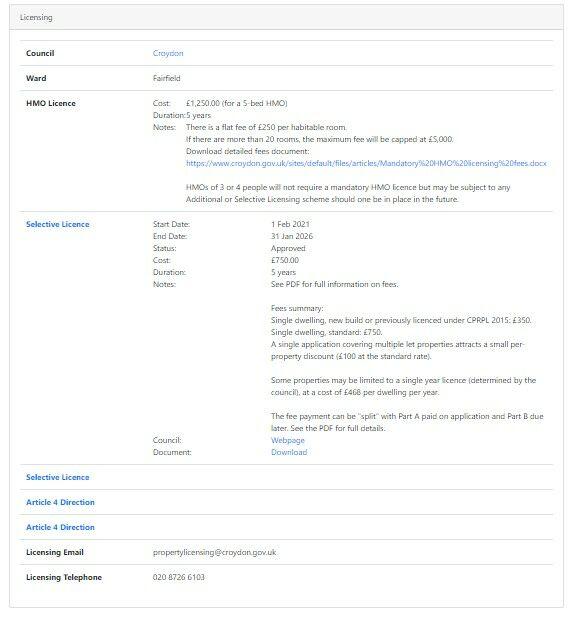 You can find more details about the licensing information feature here. You'll need a PaTMa account to make use of this tool, but this is free. The tool provides some basic licensing information for free. You can upgrade with a Prospector Pro subscription for extensive licensing information.
PaTMa's licensing information feature means you will always be aware of any licensing implications and costs before investing. It makes it easy to understand complex licensing regimes, clearly see the costs involved, avoid making expensive mistakes and so make better investment decisions.