Property and Tenant Manager recently added a guided checklist to help with the process of starting a new assured shorthold tenancy agreement.
It's extremely important to start a new tenancy correctly. New tenants need to have everything they need to understand the agreement and settle into their new home. You also need to make sure you meet all of the required regulations. Starting a tenancy wrongly can easily leave you unable to serve a Section 21 notice or in some cases even liable for fines. Even if the tenancy contract itself is perfectly OK, you must follow a suitable process to setup the tenancy.
More than following the rules correctly, there are also important actions that will help you too. Including keeping all of your records in the right place.
PaTMa goes beyond a simple checklist and also provides tools and automation everywhere possible to make the entire new tenancy process really efficient for you.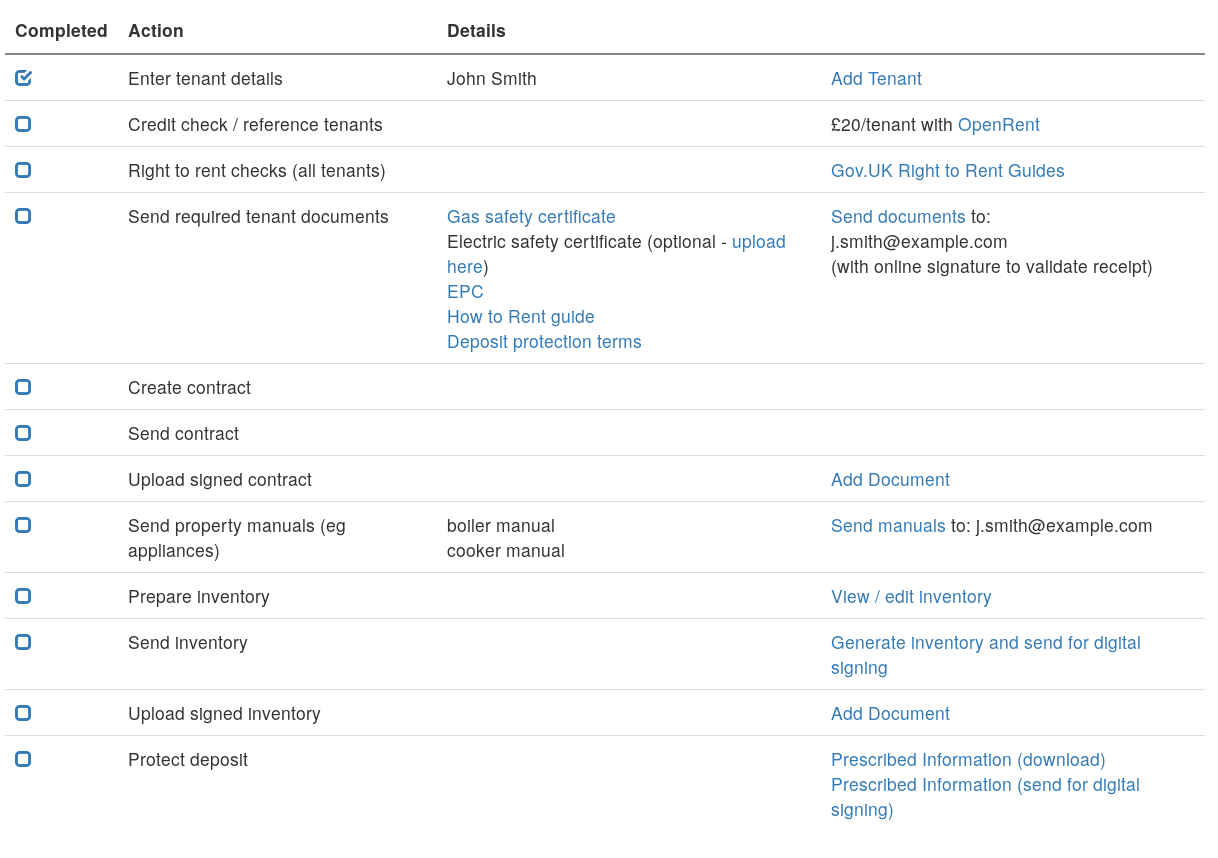 Enter tenant details
Add tenant details to PaTMa early, so you always have them to hand.
PaTMa stores names, email addresses and phone numbers for tenants.
Entering at least names and email addresses will enable some of the automation features later in the new tenancy process.
Credit / reference check tenants
Whatever situation you're starting a tenancy agreement in, it's always a good idea to check your tenants references and credit.
Some lettings agents or even landlords will have an in-house process for this. For this you can upload your completed reports and tick off this item.
Otherwise there are numerous agencies that will complete tenant credit checks including our current suggestion OpenRent. Again, once the credit check has been completed, you can upload the report and complete this checklist item.
Right to rent checks
It's now a requirement for landlords to complete, and document, right to rent checks on behalf of the government. Property can only be rented to tenants who pass these checks.
PaTMa includes a handy link to the government right to rent guide for landlords.
Once completed, you can upload your evidence for secure storage in the cloud.
Send required documents to tenants
There are a number of documents that must be provided to tenants before they sign a new tenancy agreement.
Failing to provide some of these essential documents to tenants can prevent the use of a Section 21 notice to end a tenancy or even result in financial penalties for the landlord.
Two of the required documents PaTMa will provide automatically for you:
How to rent guide (from the government)
Deposit protection terms and conditions (dependant on provider)
PaTMa is aware of all the recognised deposit protection schemes currently operating and maintains the current terms for each, ready to send to your tenants.
The other two (or three) required documents you will have already uploaded to your PaTMa property records. This means that PaTMa will automatically pick up the currently valid document to send to your new tenants. These documents are:
EPC
Gas safety certificate
Electrical safety certificate (required for HMOs)
These documents are collected together and sent to your tenants in two ways - via direct email and also via an online signing service to collect signature evidence of receipt from your tenants.
Create, send, upload contract
Once your tenants have the required pre-tenancy documents you'll need to arrange a contract for them.
PaTMa's contract generation, complete with online signatures, is currently in private beta. So until that's ready the checklist includes items to prepare your own contract and issue it to your tenants.
Once completed you can upload a scanned copy of the tenancy agreement for safe keeping.
Send property manuals and guides to tenants
There's no legal requirement for this but it will definitely help your tenants and smooth the start to the new tenancy.
Most properties will have a number of things that might need a little explanation. From heating controls, to cookers, to basics like where the stopcock is.
Simply upload these documents once to your property profile. For every new tenancy, click a single link to send all these useful documents to your tenants. They'll have them for easy reference whenever they need them.
Prepare inventory
Use the built-in PaTMa inventory builder to record all the property's essential details, including any utility meter readings.
Alternatively you can also prepare your inventory outside PaTMa using another tool, pen and paper, or an inventory agency.
Send, upload inventory
The PaTMa inventory builder includes the option to send the generated inventory to tenants via an online signing service. Speeding up the process from inventory issue to tenant agreement.
Using an external inventory you can still upload a scanned copy of the signed paperwork for secure storage and easy future reference.
Protect deposit (and inform tenants)
If you take a deposit from your tenants then you have to protect it with one of the officially recognised deposit protection schemes. This is normally done after the tenancy starts hence it's the last item to tick off from this new tenancy checklist.
Where available (not all schemes are currently supported) there's also a link to instantly generate and send the required prescribed deposit information straight to your tenants.