You want to purchase a buy-to-let property. You've got a deposit saved up and you've had a chat with a friendly mortgage broker to see what's available. So now you just need to choose a property to buy.
That's exactly where our buy-to-let prospecting tool will make life a lot easier for you. You simply enter your financial criteria and then carry on with your normal property search. Add each property you like to your personal list and the system will calculate all the figures you need These include profit and yield forecasts.
In this blog post, we'll show you how to get started in three easy steps.
1. Register on PaTMa
You can register for free and even store your first three potential buy-to-let properties to get a feel for the system.
Start on our pricing page and click "Create Account" for free (or "Buy Now" for the Advanced or Agent Plus packages if you're already convinced).
After registering, make sure that your click on "Prospects" in the top navigation. The screen should be headed "Your Prospects" just like this:

From there, click the "first prospect" link to get started.
2. Add your first prospect property
Get started by adding your first prospect - one of the properties you're considering buying as your letting investment.
Here's the form as it looks today (we've got some exciting enhancements coming soon, create your account now to receive emails as we update). I've included some example values.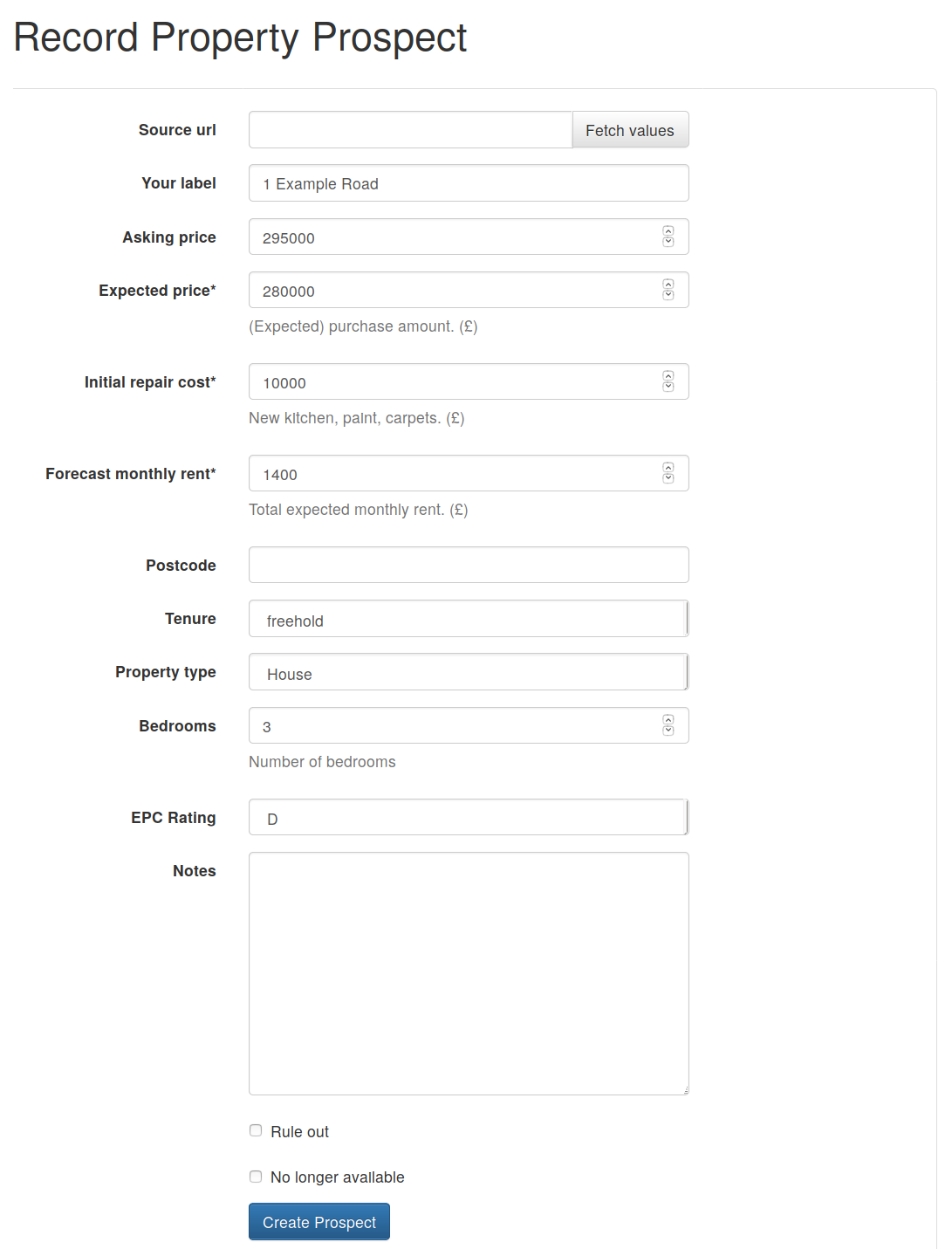 Fill in the "Source URL" box to have a convenient link back to the full property details. If that URL is on Rightmove you can also press "Fetch values" to get a few details auto-filled for you.
Then fill in the rest of the information you want to store about the property you're considering. If you need them, there are details on the financial figures used here.
Once you've filled in everything you want to (at least including the ones marked with an asterisk), click "Create Prospect" and you'll be taken back to the prospect listing page.

3. Set your own criteria
At this point you'll probably notice that the calculated numbers are mostly nonsense! This is because the system automatically creates your initial "criteria" - the financial situation and restrictions you're working in. These default values almost certainly wont be right for you.
So let's change them. Click the "edit" link near the top right of the listing screen - on the row with the criteria numbers.
You'll see a screen with all the buy-to-let financial criteria details you can change, it should look like this.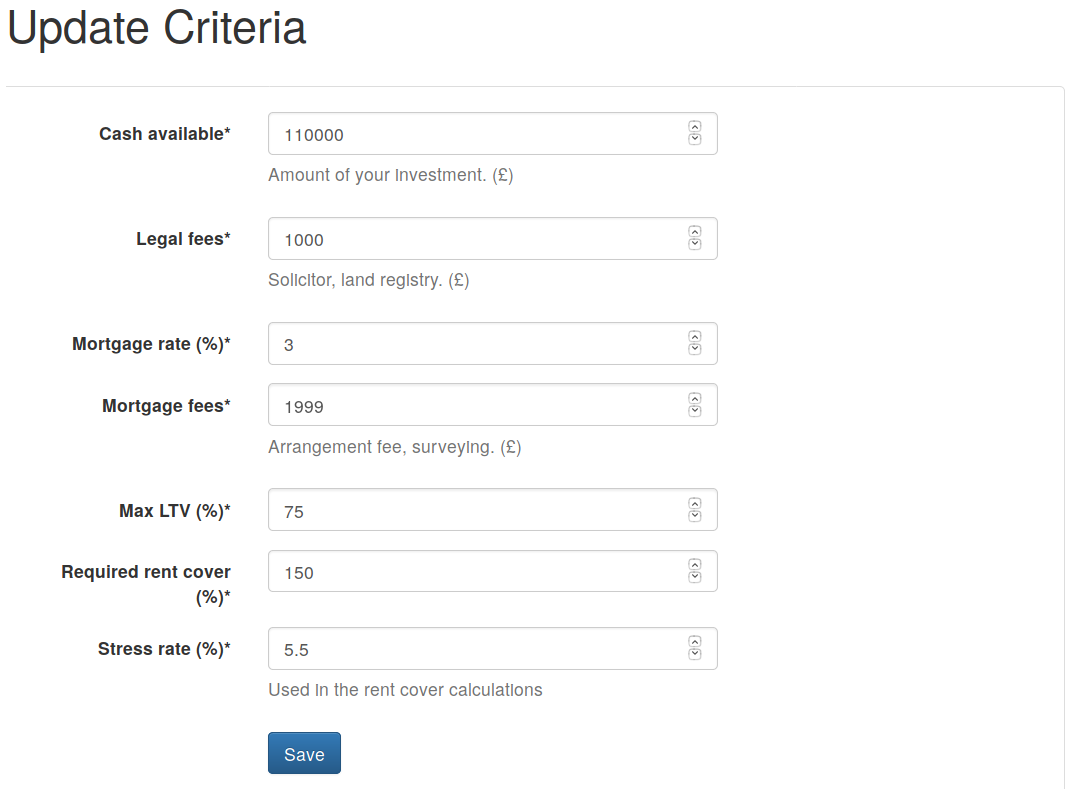 Here you need to fill in how much cash you have available to spend.  This should be for everything, not just what you expect to put into a deposit. Then enter your expected legal fees and the mortgage figures you expect to get.
Some of these numbers, especially the mortgage restriction ones, are less obvious so please do read out previous buy-to-let profit calculator guide for more details.
With your criteria updated, click "Save" to be returned to your prospect list, complete with your calculations.

That's it! You're all set to add more properties to see which you can afford at what price. Sort them by yield or cash required or over ten other values.
Click on any of the price scenarios to see the full buy-to-let profit calculations (see our explanation of all the buy-to-let profit figures).
Edit each property at any time as you discover more information or want to record some notes after your viewing.
Create an account to compare your first three properties for free now.