From tomorrow, the 1st June, the Tenant Fees Act 2019 introduces new rules that ban the charging of almost all fees to tenants. But that's not all that this new legislation is introducing, there are also new limits on the deposits that can be taken.
The Tenant Fees Act 2019
The new deposit limits are for all new AST tenancies signed from the 1st June 2019. Any deposits collected under existing tenancies can remain as they are. You could, if you wish, partially refund deposits over the new limit but it isn't required.
Fixed term tenancies that started before the 1st June 2019 and later become rolling do not require any changes to their deposit. However if you issue a new fixed term contract (even to the same tenants) after the 1st June 2019, you need to obey the new deposit cap.
For most tenancies the deposit limit is 5 weeks rent. There's also a maximum cap on holding deposits, set at 1 weeks rent.
Most tenancies are based on monthly rents so the legislation includes the formula that should be used to calculate one week from a monthly rent (it's: monthly rent x 12 / 52). Of course to convert that to 5 weeks for the deposit you then multiply by five.
Doing The Calculations
These calculations are fairly straight forward but that still doesn't mean you want to be doing them all the time. Or making sure you've remembered then perfectly.
That's why you can now find a free Tenant Fees Act 2019 deposit calculator on the PaTMa site.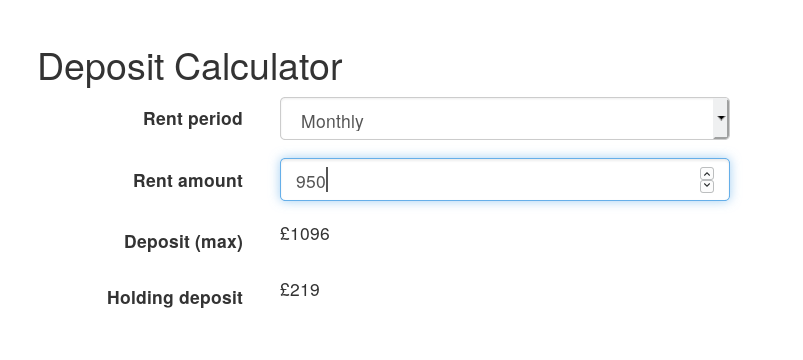 Built Into Property Manager
The same maximum deposit calculations are also built into the new tenancy process within PaTMa. When you're entering all the details for a new tenancy, you'll also see an instant calculation of both the holding deposit and main deposit limits.

Efficient property management
PaTMa's mission is to make property management more efficient, saving you time and money with simple, streamlined processes.
Create a free PaTMa account to start saving time in your property management life.